Watch is a kind of interesting fashion accessory. There is a wide variety of patterns to choose from. For the best watches, they can make your clothes exquisite with low prices.
At present, smart watches in sports and high-tech trackers are more and more popular. But the development and application still remain to be seen. On the other hand, many traditional watches have impressive performance in values and styles.
Although these watches are cheap, you won't buy them regardless of the qualities. If you are looking for high-end ones, there are 6 most popular watches in this blog.
1. Fossil Jacqueline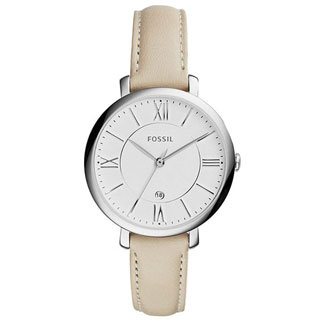 This kind of watch for women is designed by Fossil. The classic Roman numerals dial, simple and comfortable genuine leather strap and all kinds of combination of neutral colours make it the best choice for daily wearing.
There are light patterns, three hands and Roman numerals on the surface of the watch. The small window on the bottom displays the day of the month.
Although it is described as a classic style, it shouldn't be misunderstood to be old-fashioned. The design of Jacqueline shows modern aesthetics. If you want a daily watch for decoration, you can't miss it.
Pros
Nice appearance and beautiful decoration
Durable design, comfortable strap, multiple colours
Date function
2. Kate Spade 5 O'clock Metro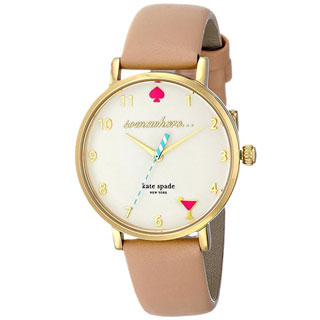 Kate Spade has grasped the art of watch making, in spite of various fashion productions in different styles. Every detail of the 5 O'clock Metro shows a fantastic idea. This watch gives a fashion declaration and it doesn't look flashy.
The inspiration of this watch is from New York ---- the city that never sleeps, which is also the headquarter of Kate Spade. You are in the mood of "It's Five O'Clock Somewhere." no matter when you are having fun with friends or colleagues, or enjoying your solitude pajama moment with a glass of wine.
You can not only get the fantastic designs on the dial, but also choose a variety of theme colours: golden/white, golden/beige, golden/Navy blue, and golden/black, which make it easy for you to find your personal style. In addition, the size of the case is suitable with a diameter of 34mm.
Pros
Interesting details
Accurate movement
Good quality
Water resistant
Cons
Some think the straps are stiff
3. Wristology Olivia Scalloped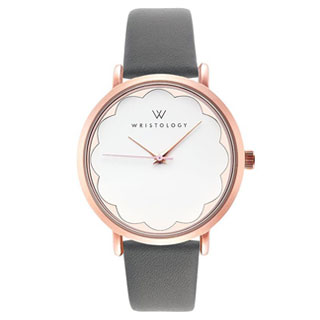 Although most handsome watches follow a hoiden route with bulky features and sports looks, Olivia is different. The outer side of the dial is decorated with petal-like patterns. With no numbers or other markers to indicate time, it is simple, modern and charming.
The rose-gold case makes it more like a high-end product, but in fact, unlike many fashionable watches, the price is very reasonable. The other advantage is its multifunction. You can make full use of this cheap timing device. What's more, it is also suitable to decorate yourself. From leisure weekends to formal weekdays, it matches very well.
Well, you should know that the diameter of the case is 38mm. You may find it too large if your wrist is slim. But if you want a shiny accessory to catch people's attention, Olivia won't let you down.
Pros
Beautiful designs for women
Stand wear and tear,can change the band
Water resistant
Reasonable price
4. Mondaine Classic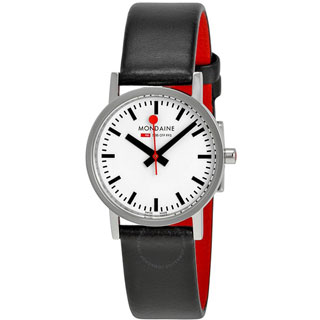 As a Swiss watchmaker, Mondaine is famous for its great designs and high-quality products. This watch was inspired by the official Swiss Railway clock, which was designed by a Swiss engineer and designer Hans Hilfiker in 1944. The clock is also the symbol of Federal Railway in Swiss.
In 1986, Mondaine drew on the wisdom of the railway clock and applied it to its watch series. This classic watch is not only simple in design, but also modern and suitable for everyday wearing.
The main tone is black, but the iconic red second and red colour on the bottom of the band make it an interesting combination. If you are looking for a unique watch for your decoration, Mondaine Classic will be a good choice.
Pros
Unique dial design
Accurate movement
Suitable for almost any occasions and clothes
Cons
Less creative Mondaine logo design
5. Fossil Virginia
Although daily watch for decoration is a must-have item in your wardrobe, sometimes you need a special kind to go with a small black dress. Fossil Virginia is such a watch for special occasions. There are exquisite crystal ornaments on the watch rings, scales and bands. It's obvious to make you attractive in public.
It offers two option colours: rose-gold and silver. You can choose the suitable one according to the clothes you wear. What's more, the 30mm case diameter is carefully considered, as it covers the widest user base.
Virginia can be a fashion complement to any garment with its elegant appearance, solid quality and affordable price. Whether you are in a large business meeting, formal academic event or dating, a little extra sparkle will never hurt.
Pros
Elegant and beautiful appearance
Well-designed crystals
Flexible strap with good quality
Water resistant
6. MVMT Hermosa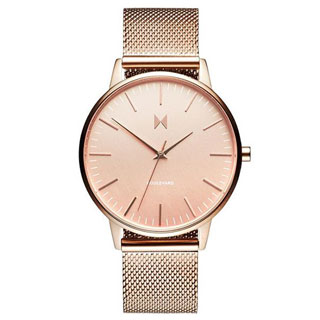 If you like simple appearance, you are likely to love MVMT. It was founded by Jake Kassan and Kramer LaPlante in 2013 and they quickly achieved the crowdfunding goal in Indiegogo. Their watches have been a favourite of budget buyers since then.
The all-metal Hermosa is one of our favourite models. The case diameter is 38mm. The metal strap is full of smooth meshes, so it will never hook your hair or clothes. The ultra-thin shape makes it very light and comfortable to wear.
This watch is so slight and light that you may forget that it's already on your wrist. The elegant and charming rose-gold watch can almost match all kinds of clothes. The delicate mesh metal strap is full of texture. The minimalist dial is full of attraction and very easy to identify.
Pros
Economical
Minimalist design
Soft and thin stainless steel strap
Low price